If you've recently moved to Maine or bought a car, you'll need to register your vehicle in Maine. Before you can do that, you'll need to provide proof  of  Maine auto insurance and pay excise tax at your local city or town hall.
It takes a little time, but it's not a very complicated process.
1) Buy Maine Auto Insurance – Maine law requires you to carry at least minimal liability insurance. If you have a loan or lease on your vehicle, you'll also need to buy physical damage coverage (commonly called "comprehensive and collision"). If you have moved to Maine, you will need to insure your car here in order to register it here. If you live in Southern Maine, you can get up to 5 Maine auto insurance quotes at once on our web site, or simply call us for a quote. If you have a Maine commercial vehicle, insurance is still required. Call Noyes Hall & Allen for a business auto insurance quote.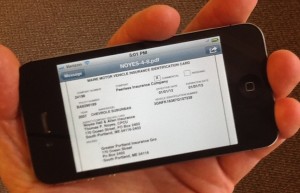 Your insurance company or agent will provide you with an insurance card. You'll need to bring that to…
2. Pay Maine Excise Tax  at your local city or town hall. Most municipalities accept faxed or emailed insurance cards if you forget yours. We can also email one right to your smartphone, and you can simply show it to the person at the excise tax desk. If you're re-registering a vehicle, you can do that at the same time at many municipal offices. If you're registering a vehicle for the first time, though, you'll need to….
3. Register Your Vehicle and Pick Up Your Plates at a Maine Bureau of Motor Vehicles location. Generally, the fee is $35.00 a year for personal vehicles, unless you have a specialty plate. You'll need to bring evidence that you've paid your excise tax and your proof of insurance.
Re-registration is usually an easy process. Simply bring your proof of insurance to your city or town hall. Many municipalities allow you to pay excise tax and registration right there – no need to go anywhere else.
If you have questions about insuring Maine personal or business vehicles, contact our experienced Portland Maine area insurance agents at 207-799-5541.