When a crash or disaster seriously damages your vehicle, it's stressful and confusing. If the damage is bad enough, an insurance company might declare your vehicle a total loss. Fortunately, it doesn't happen often to most of us. What does it really mean when your vehicle is totaled?
What Does it Mean When a Vehicle is Totaled?
A vehicle is a total loss when the cost to repair it exceeds a percentage of its value. The calculation method and ratio vary state to state. Some states use a flat percentage of the vehicle's value as a threshold. Other states add the salvage or scrap value of the vehicle. That's called the formula method. In general, it's easier to total a vehicle using the formula method. That's because the salvage value is added to the value of the vehicle before calculating the percentage.

Maine uses the formula method. Maine law considers a vehicle a total loss if the damage plus the scrap value exceeds 75% of the value.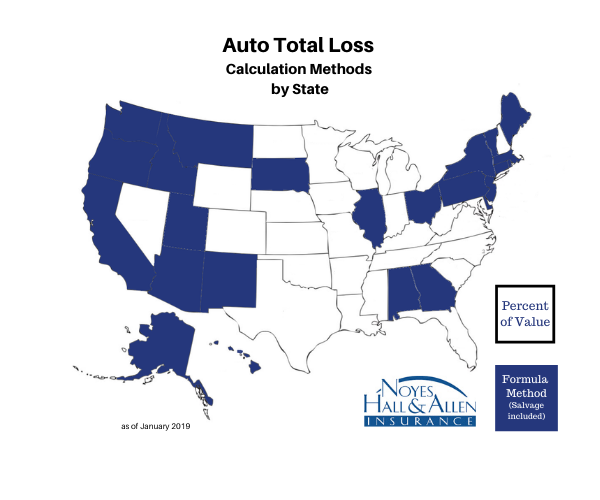 For example:
| | | | | |
| --- | --- | --- | --- | --- |
| Vehicle's pre-loss Value | Repair Cost | Salvage Value | Repair + Salvage | Totaled? |
| $5280 | $3150 | $500 | $3650 | NO |
| $5280 | $3650 | $750 | $4400 | YES |
My Car's Worth More than the Repair Estimate. Why is it Totaled?
When an insurance company totals your car instead of paying the repair cost, they sell the salvage. The scrap value is considered part of the value of your vehicle. If it's cheaper for the insurance company to pay you the value of your car and recover the salvage, they will. If it's cheaper for them to repair your vehicle, they will do that.
In Maine, if the cost to repair plus the scrap value exceeds 75% of your vehicle's value, the insurance company can total it.

Why 75%? Insurance companies know there's often hidden damage after a serious loss. When the repair shop removes outer damaged parts, more damage is revealed. That increases the repair cost from their original estimate. So, insurance companies use 75% to provide a safety factor. That way, they're not paying more to fix your vehicle than it's worth.
Why Nicer Cars Are Easier to Total
High end cars cost more to fix. Their salvage value is also higher. So, the nicer your vehicle, the easier it is to reach the 75% threshold. A newer vehicle with a lot of cosmetic damage (e.g. hail) may have no mechanical issue and still be totaled. That's because many expensive mechanical parts are still good, increasing the scrap value.
What Happens When My Vehicle is Totaled in Maine?
If your Maine vehicle is totaled, you essentially sell it to the insurance company. They pay you the pre-damage fair market value of the vehicle. You sign the title over to the insurance company. They keep the salvage value after selling it. Usually, it's sold at auction.
Can You Keep Your Vehicle in Maine After It's Totaled?
You can buy your unrepaired vehicle back from the insurance company for its salvage value. You still sell the vehicle to the insurance company by signing over the title. They pay you the pre-damage value of your vehicle, minus the salvage value. They sell you a Maine salvaged title for the salvage value.
Can I Drive a Vehicle With a Maine Salvaged Title?
No. Once there's a salvage title, all of the work on the repair estimate MUST be done before you can drive the vehicle. You and the repair garage must complete and submit Form MVT-103 to Maine Bureau of Motor Vehicles.

When the State of Maine approves your vehicle repairs, it issues a rebuilt title. A rebuilt titled vehicle is worth less than one with a regular title.
Many insurance companies will not offer comprehensive or collision coverage for a vehicle with a rebuilt title. That's because it can be difficult to assess the fair value of the vehicle.
The Insurance Company Wants to Total My Vehicle. Do I Have to Accept That?
You have the right to get your own repair estimate and choose your own body shop. Can you find one that will repair your vehicle for less than the threshold? Your insurance company might agree and pay the repair cost. Remember: in Maine, the 75% threshold includes the scrap value of your vehicle.
Once an insurance company totals your vehicle, you have a salvage title. You must repair the vehicle to drive it.
What if the damage is mostly cosmetic, and the car drives fine? You have the option to withdraw your claim and avoid a salvage title.
An Example of Withdrawing a Claim
Assume that a hailstorm pounds your vehicle. Dozens of dents on the hood, roof and trunk; a broken windshield. But the vehicle drives fine, and the dents don't bother you. You could withdraw your insurance claim and pay to repair your windshield "out of pocket". Although your vehicle may not look great, you might be able to drive it for many more years.
What if you withdraw your claim and don't repair the body damage? Your insurance company will probably remove comprehensive and collision coverage. That's because they wouldn't pay for future damage; they already consider it totaled. Makes sense.

If you switch insurance companies, it's important to declare the prior damage to them. The new insurance company will likely exclude comprehensive and collision coverage, too.
Questions About Maine Auto Insurance?
Do you live in Southern Maine and have questions about your auto insurance? Contact Noyes Hall & Allen Insurance in South Portland at 207-799-5541. We're independent and committed to you. We offer a choice of Maine's preferred auto insurance companies.