Two types of hazard insurance commonly cover Maine homes and property: a homeowners policy or a dwelling fire policy. Each can satisfy your mortgage company's hazard insurance requirements. Homeowners and dwelling fire policies provide different coverage. Here are some of the major differences.
Homeowners – Broader Coverage, Tighter Eligibility, Custom Options
Maine homeowners insurance policies are designed for owner-occupied properties, usually one- or two-family homes. Insurance companies look to write homeowners policies on well-maintained year-round homes with good claim history.
Homeowners policies provide coverage for more classes of property than dwelling fire policies. Dwelling fire policies usually provide little or no contents coverage, while homeowners policies aim to cover most of your belongings. You can tailor a homeowners policy for special types of property like jewelry, art or firearms. Specialty belongings like this aren't well covered by either type of policy off-the-shelf.
Dwelling Fire Policy – A La Carte Coverage Options
Dwelling Fire policies are designed to cover only the things you or the insurance company want to. Is your roof is in poor shape? Your insurance company might exclude damage for water leaks. Own a Maine camp with no plumbing? You don't need insurance for damage from frozen pipes. Dwelling fire policies allow you to customize your policy by choosing from the basic DP-1 form, the broader DP-2 form, or the broadest DP-3 form.
Other important differences:
Liability coverage is limited to the premises on dwelling fire policies.
Homeowners offer more comprehensive personal liability protection. It follows you worldwide.
Dwelling fire policies also don't cover theft of contents. These characteristics make dwelling fire insurance policies ideal for tenant-occupied homes or income properties in Maine.
Almost all homeowners policies cover theft of contents.
Comparing Homeowners and Dwelling Fire Policies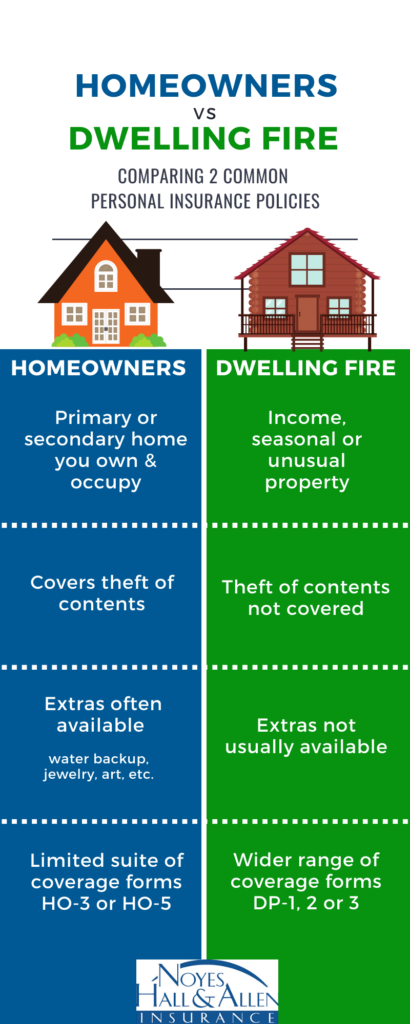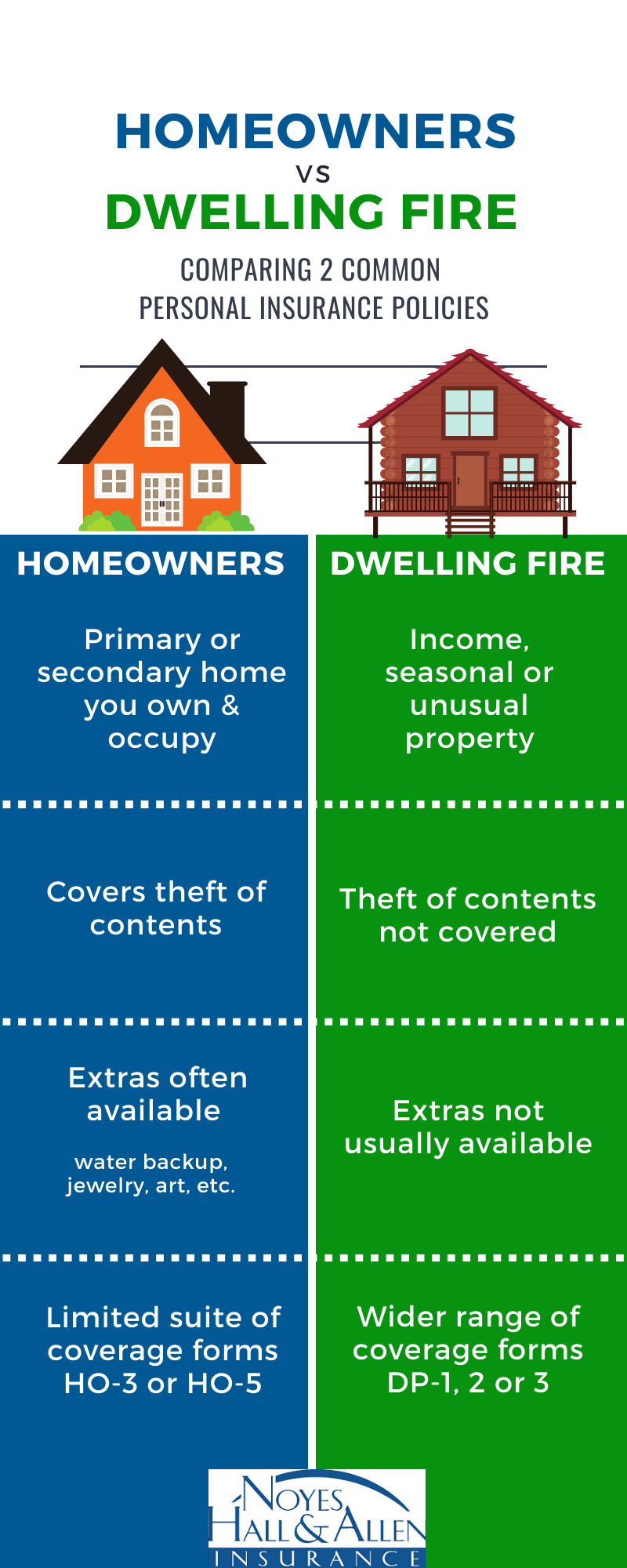 Hazard Insurance in the Portland Maine Area
Do you live in Portland or the southern Maine area? Do you own rental or income property? We're happy to answer your questions about hazard insurance for your mortgage lender, homeowners insurance or dwelling fire insurance. We can explain the difference between various policies. We offer a choice of several insurance companies, so we can shop and compare insurance for you, and help you choose the proper insurance to meet your needs. We're independent and committed to you. Call Noyes Hall & Allen at 207-799-5541, or click the "get a quote" link above.
Was This Post Helpful?
We provide this information to educate people about insurance options. We hope it was helpful. If so, would you help us in return? If you provide an online review, it would help other people who are looking for help with their insurance. Thank you!