Does Homeowners Insurance Cover Boats?
Homeowners policies cover very few boats for liability, and almost none for theft or damage. You can add liability coverage for an extra charge, but you'll need a boat policy for more property coverage.
Boat Property Coverage on a Homeowners Policy
Most Maine homeowners, condo and renters insurance policies limit watercraft coverage to $1,500. Windstorm and hail damage is only covered if your boat is indoors. Theft is only covered if it's at your home. Basically, anything bigger than a canoe needs a separate boat policy.
Boat Liability Coverage on a Homeowners Policy
Only sailboats less than 26 feet and power boats with less than a 25 hp motor are covered on most Maine homeowners policies. Anything larger than that, you need to buy either a boat policy or an endorsement to your homeowners, condo or renters insurance.
Why Don't Homeowners Policies Cover More Boats?
Insurance companies try to include coverage that most people need. That's why small outbuildings and garages are usually automatically covered. To keep premiums lower, they don't include coverage for property that the majority of home owners don't have. So, boats, firearms, jewelry and silver require special coverage, at an additional charge.
All Boat Insurance is NOT Alike
When buying boat insurance, pay attention to the details. Coverage varies a lot! Some insurers value your boat like a car (book value), while others will replace your 3 year old boat with a brand new model. Some will cover catastrophic motor failure, others will say "bummer". Some will pay to haul your boat from the bottom after a through hull fitting fails. Others will write a check for the boat and walk away.  Choose the insurance you're most comfortable with.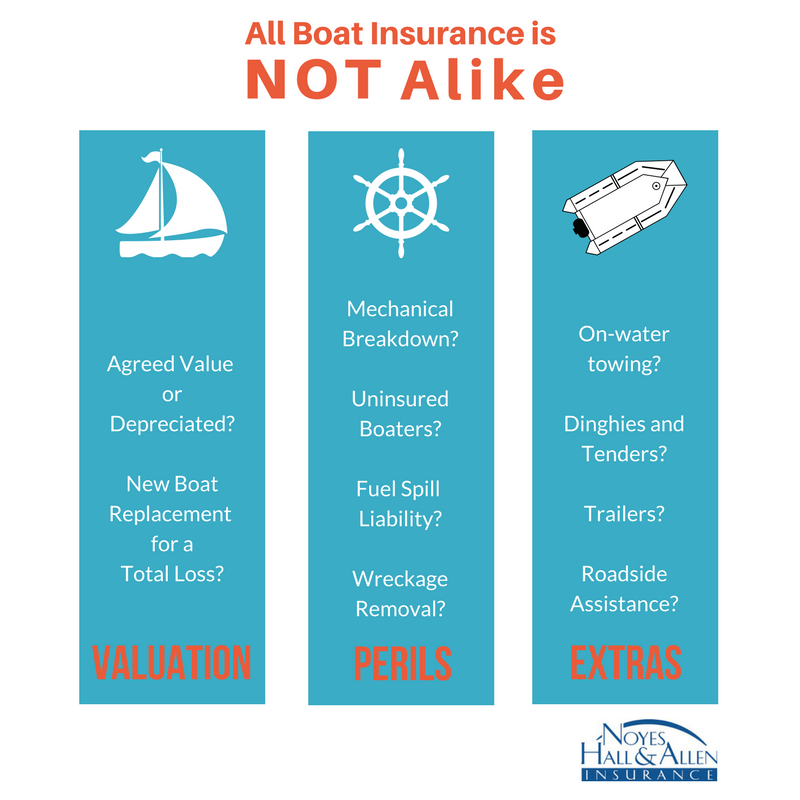 Where to Buy Maine Boat Insurance
Contact your local insurance agent and ask them about these coverages. They should have a policy that fits your needs and your budget. If you live in Southern Maine and are looking for a boat insurance agent, call Noyes Hall & Allen in South Portland at 207-799-5541, or leave your contact info here and we'll reach out. We insure watercraft from aluminum runabouts to antique wooden sailboats. We offer a choice from many insurance companies. We're independent and committed to you.
---