Ice dam damage is a common problem in Maine and other cold weather areas. Learn the warning signs and how to prevent damage here.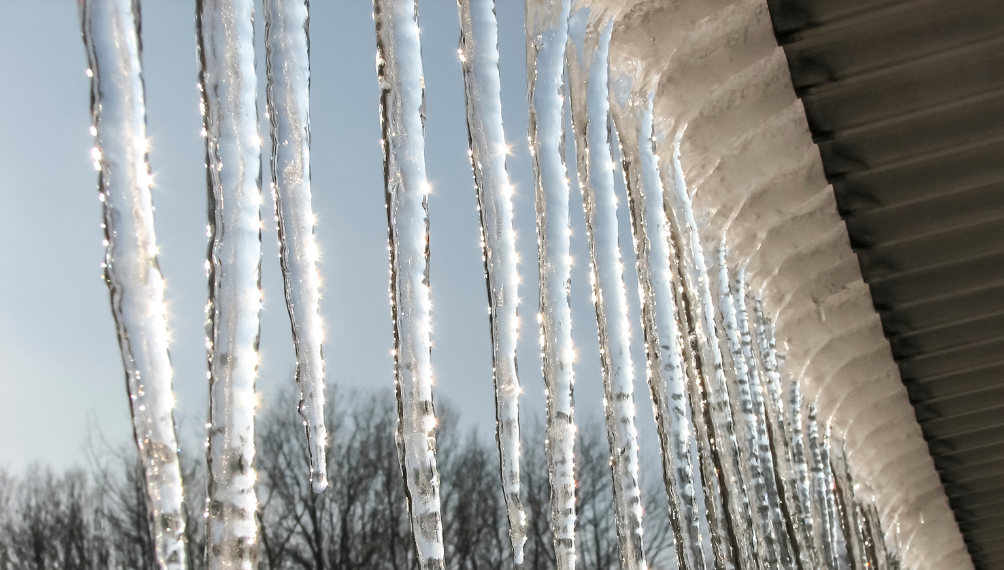 Icicles and Ice Dams
You can have icicles on your roof without an ice dam. They affect different parts of your roof. But icicles hanging from eaves and gutters are often a warning sign of an ice dam on the roof. Ice dams and icicles are both caused by the freeze – thaw cycle.
Icicles form when ice or snow melt from your roof and freeze on the edge. They can be very heavy. When they fall, they can damage property or injure people.
Ice dams occur when snow melts and then re-freezes on your roof. If melted water works its way under your roof shingles and refreezes, it expands. Ice can trap (or dam) water on the roof, causing it to pool and back into the building. The resulting roof leak can cause damage inside the building. Untreated, it can cause mold and rot.
Insulation and Ventilation Prevent Ice Dam Damage
Proper insulation and ventilation help prevent the freeze – thaw cycle that creates ice dams. The goal is to keep your roof cold.
Good insulation between the ceiling and roof is key. Pay particular attention to openings like vents and hatches. EfficiencyMaine is a great resource to learn more about insulating – and saving heating and cooling costs. You can even set up an energy assessment.
Ventilation is another key. Allowing cold air to circulate between the insulation and the roof keeps your roof cooler. That reduces the freeze – thaw cycle that causes ice dams.
Maintenance Tips to Prevent Ice Dam Damage
Good maintenance is another way to avoid damage from ice dams.
Clear leaves and debris from downspouts and gutters before winter.
Allow downspouts and gutters to flow freely. Keep them free of snow and ice.
Rake snow from your roof with a special roof rake. Roof rakes allow you to stand on the ground and clear your roof, reducing chance of a fall or other injury.
Never chop ice with any sharp tool or hammer. This can damage your roof!
Trouble Signs
Look for these signs that an ice dam may be forming:
Icicles.
Water damage on inside ceilings or walls.
Exterior paint damage.
Your roof is clear when your neighbor's is snow-covered. This can be a sign that your insulation is inadequate.
Ice Dam Damage and Insurance
Your home or business property insurance may cover water damage caused by ice dams. Sometimes, roof shingles are undamaged by ice dams, but water leaks inside. Check with your insurance agent to see if your home, condo, renters or business policy covers ice dam damage.
If you live or have a business in Southern Maine, including Greater Portland, contact a Noyes Hall & Allen Insurance agent at 207-799-5541. Because we offer a choice of many insurance companies, we can compare options to find the right fit for you.
We're independent and committed to you.