Portland, Maine real estate is hot. Perhaps no sector is hotter than condominiums. Condos combine the security, investment and tax advantages of property ownership with fewer maintenance chores. But they do require unique insurance solutions.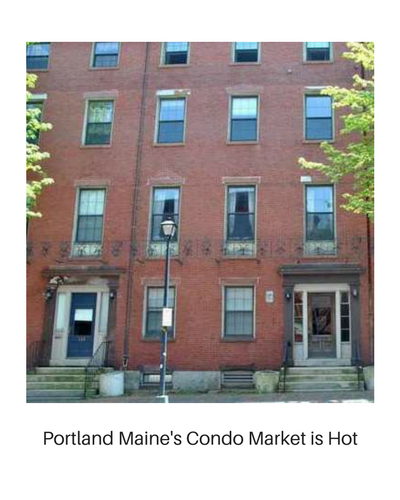 Condos attract first-time home owners who want to invest in a place of their own instead of rent. Downsizing baby boomers are eager to ditch yardwork, exterior home maintenance and snow removal. The convenience, vitality and amenities of Portland, especially the peninsula, draws many buyers. That's where condo prices tend to be highest.
Is Your Condo "All-In"? "Studs In"? What Does That Mean?
Two documents govern every Portland Maine condo association: bylaws and declarations. They define the boundaries of each unit and outline the what you're responsible for vs. the association. Get copies of these documents as soon as you're under contract to buy your condo. Share them with your insurance agent. They can help you decide how much coverage to buy.
Some associations insure nearly all real property, including post-construction improvements made by unit owners. Others put great responsibility for building coverage on individual unit owners. Associations may update their bylaws to reflect changing needs and desires of owners. Make sure you have the most recent information, and keep up with any changes the board makes.
---
---
Bylaws also define what is – and isn't allowed in the association. Some examples: pets; clotheslines; grills; and rental of the units. Are you joining an association whose rules and culture fit your lifestyle?
Understand Your Condo Fees
Monthly association fees get your attention when you're condo shopping. It's tempting to view lower fees as always better than higher ones. In reality, it depends what you're paying for. Common items included in condo fees are:
Real Estate Taxes
Association Insurance Bylaws that push responsibility to unit-owners may decrease shared insurance expense, but increase individual costs.
Property Maintenance – Some associations choose to hire a professional property manager. This can be helpful in contractor negotiations, day-to-day operations, and capital budgeting. But, professionals obviously get paid for their work. Other condo boards are more "DIY". They may have lower monthly fees, but demand more time and involvement of unit owners.
Capital Improvement Reserves – for property upkeep, such as replacing roofs, paving, etc.
Assessments for unplanned or special items, such as insurance deductibles, uncovered claims, or unfunded capital expenses.
When choosing a condo, look at your total housing costs, and think about how much responsibility you want as a unit owner.
Questions About Portland Maine Condo Insurance?
Noyes Hall & Allen insures dozens of condominium associations and hundreds of condo units. We've been insuring Portland condos since the beginning, in the 1970's. Do you have questions about insuring your condo or your association? Contact a Noyes Hall & Allen Insurance agent at 207-799-5541. We're independent and committed to you.