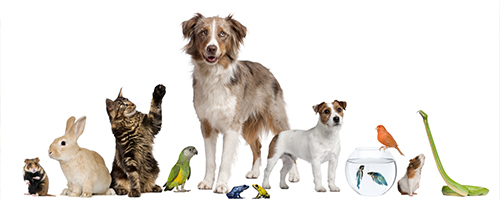 Mainers love their pets. More than 60% of Maine households include at least one dog, cat, bird, rabbit, snake or other non-human family member. That puts us in the top 5 states for pet ownership. In fact, Maine ranks #2 in cat ownership at 46.4% of households, according to one survey.
Pet Ownership is a Responsibility
While the joy they bring is priceless, pets depend on us to do what's best for them. That's more than just giving them food, water and exercise. Our pets rely on us to manage their health. Veterinary medical care can be expensive, especially when they get sick or injured. Veterinarian treatment, ER visits and veterinary specialists can be budget-busters for pet owners.
Pet Injuries and Illnesses Can Be Costly
Here are a few of the most common conditions and treatments that pets might face:
Asthma, feline: inhaler and medication – $500 (plus visits every 3-6 months)
ACL surgery, canine (TPLO) – $3,500 to $5,000
Diabetes in cats – 1 day of hospitalization every 3 months to check glucose levels, once stable.
Medication: about $50 per month.
Hip dysplasia, dog: Surgery, $2,000 to $4,000.
Pet insurance can help defray these costs. Yet, less than 2% of U.S. pets are covered by insurance.
What Does Pet Insurance Cover?
Most popular pet insurance plans cover treatment for diseases, illnesses and injuries. That includes:
Veterinary or specialist treatment
Hospitalization
Surgeries
Prescriptions
CAT scans, MRI, X-Ray
Cancer Treatments
Every plan has different limitations. Many insurance companies offer different levels of coverage. The higher the limit of coverage, and the lower the deductible, the higher the cost of the insurance.
What Does Pet Insurance Exclude (Not Cover)?
Most plans exclude regular veterinary checkups (well-care).  All pet medical plans exclude pre-existing conditions. If your cat has been diagnosed with asthma, those treatments would not be covered. But, if she was later diagnosed with feline leukemia, that treatment would be. Also, spaying, neutering, and "maintenance" items like ear-cleaning or gland expressing are usually not covered.
Portland Maine Pet Insurance – Our New Solution
We're excited to now offer a discount for our clients through FIGO pet insurance, one of the top insurers in the U.S. You can choose any veterinarian or provider – you're not limited to any network.
As a FIGO customer, you can download a free app and make claims on the go. The app also
reminds you about shots and appointments,
helps you find nearby services like dog parks, pet daycare and pet-friendly hotels.
offers a FIGO digital pet tag, so you and your lost pet can be reunited quickly. And, most FIGO plans cover lost pet advertising and reward.
Our clients receive a discounted FIGO rate by using a special link. Payments are made by convenient monthly withdrawals. For more information and a no-obligation quote, click the link below.

Unlike your home, auto, renters or business insurance, Noyes Hall & Allen can't answer billing or coverage questions. FIGO handles all policy issuing, service and claims. We simply offer this discounted program as a service to our clients. Let us know what you think!