Maine insurance rates remain among the lowest in the US. But home and auto rates are up as insurers struggle with rising claim costs and rising construction values. Portland Maine area insurance buyers saw increasing prices in the 3rd quarter of 2022.
Maine Auto Insurance Rates – June to September
Between June and September 2022, Portland Maine area auto insurance rates averaged a 3.7% increase at renewal, up from 1.7% last quarter. That's still below the national average of 4.3%.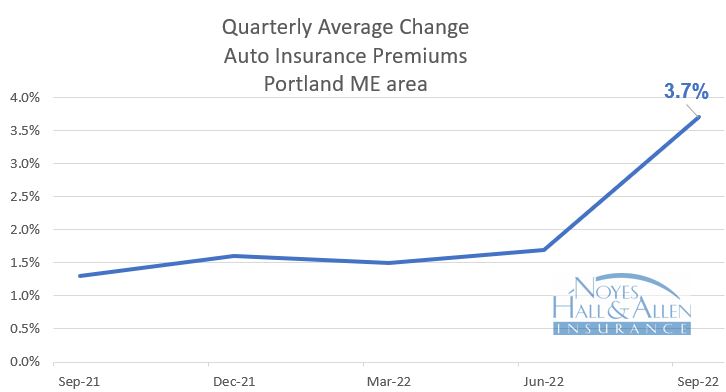 About 62% of auto insurance buyers experienced an increase in premium. The other 38% saw premiums the same or less than before. Higher repair costs, delays finding replacement parts and increased driving speeds are all factors insurance companies site when they have to increase rates. Customers' rates might decrease if accidents and violations "age off" or they choose to reduce or remove coverage on vehicles.
Maine Home Insurance Rates – June to September
Portland Maine home insurance renewal rates increased 9.6% from June to September. That's rising faster than auto premiums, and an increase from last quarter's 4.1% clip. That's still less than the national average.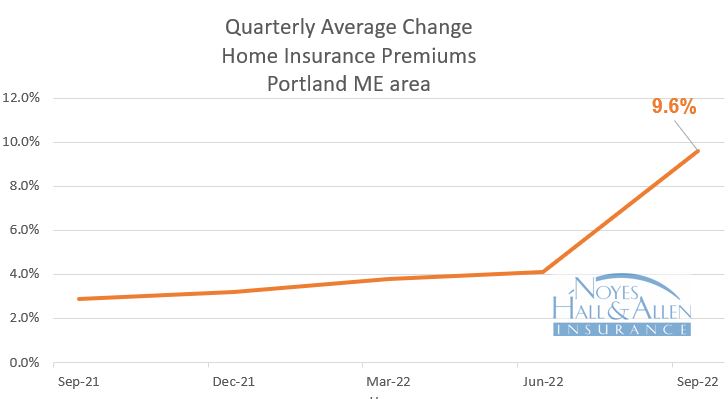 Home owners were more likely than auto insurance customers to see a rate increase: 91% saw a renewal increase. Only 9% saw rates stay the same or decrease. Higher building costs contributed to increased rates. So did longer rebuilding times due to labor shortages. The cost to rent temporary housing is very high now. That drives property insurance rates higher. So does the increasing cost of property reinsurance. That's affected by disasters and other uncertainties.
Maine Insurance Rates – Find the Best Value
If you live in southern Maine, you can get up to 5 insurance quotes in 10 minutes from our website. Or contact a Noyes Hall & Allen agent in South Portland at 207-799-5541 for a free no-obligation custom review. We offer a choice of several insurance companies. That means we can help you find the best insurance value.
We're independent and committed to you.