You've found your dream home on the coast of Maine. Congratulations! Now you want to protect your investment. And, if you have a mortgage, your lender requires insurance.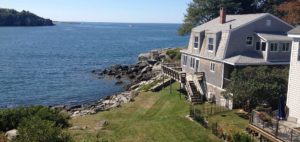 Many U.S. insurers restrict coverage for homes and properties near the ocean. They aren't concerned about storm surge or water damage. Homeowners policies don't cover flood or surface water. Wind is the issue. Homeowners, condo and renters insurance policies DO cover wind damage. That's what insurance companies worry about.
The coast of Maine gets few hurricanes or tropical storms. But we still get nasty windstorms. Not as much as warmer states, but often enough. In the past 6 months, southern Maine has had 3 storms with damaging coastal winds. Properties closest to the coast are more susceptible. The same scenic view that drew you to your neighborhood exposes your home to wind. There's no barrier to break up winds that come off the ocean. Buildings, trees and hills disperse winds farther inland.
Can You Find Insurance on Maine Oceanfront Property? 
The good news is that insurance is readily available. Your policy may have a special wind deductible, and you may pay more than your inland neighbors. But you also paid more for your property because of its beautiful location. Higher taxes, too. It's a lifestyle choice.
How Close to the Coast is an Insurance Problem?
Insurance company underwriting varies. Some insurers will insure any home that's more than 1000 feet (about 0.2 miles) from the ocean. Others draw the line at 1500 feet. Some apply special wind deductibles for any home within a mile of the coast. Others don't.
Is this your primary home or a vacation home? Insurers are more eager if they have a chance to write your auto, boat or other insurance.
Is this an island property? Even if your home is more than 1000 feet from the coast, you may have few options available. A knowledgeable local agent can help you find your options.
How To Compare Insurance Quotes for Maine Oceanfront Property
The easiest way to survey the market is to contact an independent insurance agent like Noyes Hall & Allen in South Portland. Unlike State Farm, Allstate, GEICO, Progressive or USAA, we offer a choice of insurance companies. We know Greater Portland and the Casco Bay area. We know which insurance companies will insure coastal properties. We can check the market for the best value combination of price and coverage.
If your home is over 1000 feet from the ocean, get homeowners insurance quotes 24/7 from our website. If it's closer than that, best to call a Noyes Hall & Allen Insurance agent in South Portland at 207-799-5541. We're independent and committed to you.

What About Flood Insurance in Maine?
Flood damage isn't covered by home insurance. The National Flood Insurance Program (NFIP) is a government program insuring against the peril of flood and surface water. Buy it where you buy your home insurance. Every insurance agent can sells it, and the rates are the same wherever you buy it.