(Note: Maine law regarding indpendent contractors changed January 1, 2013. This post from March, 2010 remains accurate. For the most up-to-date information, see "How to Save Insurance Costs and Win More Jobs Under Maine's New Subcontractor Law". )
It's the Maine workers comp insurance question that's worth a lot more than $64,000: What's the difference between an independent contractor and an employee? Guess wrong and you could end up with a huge Maine workers comp audit bill from your insurance company.
The Root of the Problem
Who's responsible if a worker is hurt on the job? Contractors' Maine workers comp policies pay the costs of medical and lost time damages for their employees. Contractors are not responsible for injury costs for independent contractors; the independent should buy their own workers comp insurance to protect themselves and their own employees.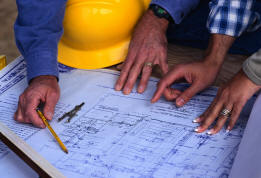 Up to Now
Until recently, Maine workers comp insurance agents instructed their contractor clients to obtain certificates of workers comp insurance from subcontractors. Then, when the insurance company conducted the Maine workers comp audit, the premium auditor would exclude the subcontracted cost when calculating workers compensation premium. This was an effective cost and risk control technique.
A New Maine Independent Contractor Definition
A new Maine law, effective January 1, 2010, (P.L. 2009, Ch. 452) sets a new standard for defining an independent contractor in the construction industry. It says that a person is presumed to be an employee unless that person meets all 12 parts of a new definition of independent contractor.
Contractors must pay Maine workers compensation insurance (by reporting the payroll to their workers comp insurer) for anyone who does not meet that new definition. Moreover, the employer must get pre-determination before each job starts, or all workers are considered employees.
What's a Contractor to Do?
Under  PL 2009, a contractor must obtain either:
A Maine workers compensation certificate of insurance for the independent showing that coverage was in force for the duration of the job; or
"Predetermination of Independent Contractor Status" from the Maine Workers Compensation Board. This predetermination is not binding – an injured worker might still be shown to be an employee after the fact – but it allows the contractor to presume that the worker is an independent contractor, and thereby not purchase Maine workers compensation insurance on their behalf.
The Maine Workers Comp Board does not approve predetermination requests retroactively; the contractor must have the determination letter as of the date the work begins. Moreover, the Maine Workers Compensation Board took the position that a predetermination is required for each and every job that the independent does, regardless of the scope or duration of the job.
Needless to say, this is proving to be a hardship for general contractors and independents alike. The contractor's typical job is short-notice, and independent contractors are often hired on the same day, leaving no time for a predetermination request to work its way through the Workers Compensation Board. Contractors are paying higher workers compensation premiums to include independent contractors, or risk losing the work due to delays.
Emergency Legislative Relief Considered
The 124th Maine Legislature has taken up LD 1815, in an attempt to clarify subcontractor status and to ease the burden on the day-to-day operations of contractors. While a Predetermination of Independent Contractor Status would still be required, the predetermination would be valid for one year. At least a contractor would not have to have this predetermination for every job. They could keep this form in their files and thereby exclude the independent's payroll from their workers compensation rating.
We believe the proposal to require a predetermination on an annual basis is a step in the right direction. We hope the Maine Legislature agrees.
For more information and advice about Maine business insurance, Maine workers compensation or for an insurance quote, contact Noyes Hall & Allen Insurance at 207-799-5541.
RELATED POSTS: