If you're a contractor or subcontractor in Greater Portland Maine, you will have to show proof of liability insurance to get preferred jobs. Whether you're a Maine carpenter, plumber, electrician or other trade contractor, people or businesses who hire you want to know that you'll be able to pay for any damage or injury caused by your work. A certificate of insurance shows proof of liability insurance.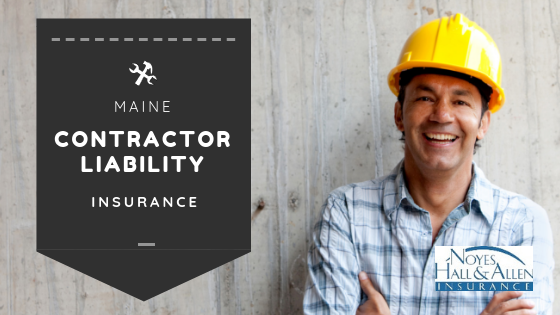 How Much Does Contractors Liability Insurance Cost in Maine?
The cost of your insurance depends on several factors:
What kind of work you do (type, number and size of jobs)
How much experience you have
How much liability insurance you buy
Whether you're insured now, and how long you've been insured
Your insurance claims experience
My Job Requires $1 Million of Contractors General Liability Insurance. Isn't That Too Much?
One million is a common requirement, even for smaller jobs. It seems like a lot of money, but it's not when you consider how much damage or injury you could cause in a worst-case scenario. Many contracts for larger jobs require even higher limits. Fortunately, insurance companies readily provide these limits. The prices are probably lower than you think.
Can I Get Contractors Liability Insurance Today?
If you currently have insurance, have a proven track record of work and few or no claims, many insurance companies want your business. You can get insurance right away. If you're new in business, or have never had insurance, it may take longer.
I'm Starting a Maine Contracting Business. Can I Get Insurance?
Congratulations on your big leap! Do you have lots of experience as a supervisor? Are you going out on your own after years of working for someone else? Many insurance companies will take you on as a new business with that kind of experience.
How Long Does it Take to Get Proof of Insurance in Maine?
Once your coverage is bound, your insurance agent can send insurance certificates to anyone who's requesting one.
Do I Need to Get Certificates of Insurance from Maine Subcontractors?
Yes! Without proof that your subs have their own insurance, you may be responsible for injuries to them or damage they cause. Always collect and keep certificates of insurance from subs you hire. Otherwise, your insurance company will increase your rates at the end of your policy for your added responsibility.
What Other Insurance Does a Maine Contractor Need?
In addition to general liability, you may want to protect your tools and equipment against theft or damage. If you have a business vehicle, you'll need commercial vehicle insurance. And if you hire employees, you must provide workers compensation insurance. Fortunately, insurance companies can bundle some of these with your general liability policy. This reduces cost and confusion from multiple bills and policies.
How to Get Maine Contractors General Liability Insurance
If you have a contracting business in Scarborough, South Portland, Westbrook or elsewhere in Greater Portland, contact a Noyes Hall & Allen Insurance agent in South Portland at 207-799-5541, or click the "get a quote" button below. We offer a choice of Maine's preferred insurance companies, including MMG Insurance, Concord Group, Hanover, Liberty Mutual, Acadia Insurance and more. We're independent and committed to you.