We have invested in a new service for our clients: 24 x 7 access to your insurance documents from the Noyes Hall & Allen Insurance Client Center. Now you can view your secure policy information, download insurance cards and other proof of insurance, and request policy changes anytime. This 6:17 video explains how: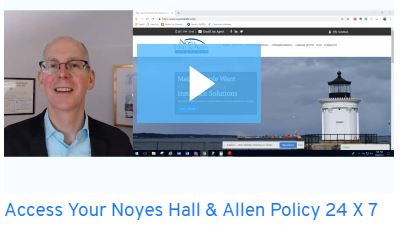 Log in to the Noyes Hall & Allen Client Center from our home page. Simply enter the email address associated with your account. We will email a one-time code. Enter it in the field, and you're in!
Note: some mobile users may have difficulty with certain browsers. We've found that Google Chrome works reliably with most devices. 
Select View Account to see the information you want.

Select Policy to see your in-force policies and coverage info, or Documents to see or download proof of insurance, correspondence, or other information we have shared with you. Note that you can also request a change to your insurance policies from the Client Center.

When you're done, you can log out by clicking on the person icon in the upper right, or simply closing your browser. Our vendor uses the latest security technology to keep your personal information private. You can view our privacy policy here.
THAT'S IT! 
We hope you find the Noyes Hall & Allen Insurance Client Center useful to access your information when it's convenient for you, whether the office is open or not.
Please note that these are very simplified views of your policy info. You may have purchased additional coverage which doesn't show on the Client Center policy screen. Your actual insurance policy is always the definitive document of your coverage.
If you have any questions about your insurance, call a Noyes Hall & Allen agent at 207-799-5541. We're independent and committed to you!