Portland Maine has more rental units than any other city in the state – more than 19,000 units according to the 2000 US Census. Portland's very low vacancy rate – as low as 1% by some estimates – makes it an attractive place to own residential income property.
But landlords know that owning an apartment building is more than just sitting back and collecting rent. From property damage to liability concerns, apartments can threaten your net worth as well as increase it. Here are 5 essentials for you to consider to protect your investment in habitational income property.
Doors, Windows and Locks
It's basic, but surprising how many landlords ignore the first line of security defense: doors and windows. Make sure the entry doors to your building and each unit are solid wood or steel, with a deadbolt lock. Windows on lower levels should also have solid locks. To protect your tenants and your property, re-key the entry lock every time a tenant moves out. A door peephole is also an appreciated safety feature to allow your tenants to see who's at their door without opening it.
Intercoms, Alarms and Security Cameras
Maine law requires every rental property to have working smoke and carbon monoxide detectors. That's just a start. If you own a building with a locked main entry, an intercom is another valuable security feature. Some intercom systems have built-in cameras. Whether you have an intercom or not, a security camera system is also a good idea.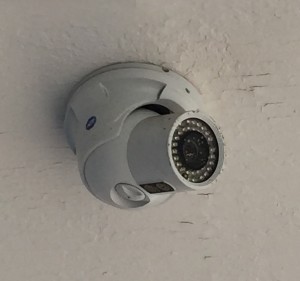 Security cameras with a recording device:
Provide added security for your tenants;
Deter vandalism;
Protect you in liability cases, by recording a fall or incident;
Document any criminal or nuisance activity.
Proper Tenant Screening
Rental property management companies do a good job of screening potential tenants. If you choose not to use a property manager, you'll want to use a professional rental application. A proper application asks about job history; income level; pets and number of occupants; and personal references, including prior landlords. The application should also give you permission to do a background check on prospective tenants, including criminal history and a credit check.
If the initial background information report indicates that someone is a desirable tenant, you may want to conduct a quick interview. Of course, the Fair Housing Act prohibits discrimination based upon color, disability, race, national origin, gender or sexual preference, religion or family status. But, you can ask potential tenants about pets and their behavior; what hours they work and sleep; smoking; and roommates and frequent guests.

A Good Rental Contract – including a Pet Policy
A good lease agreement spells out the responsibilities of both landlord and tenant. It also outlines grounds for eviction, which will be critical if your tenant turns out to be a payment or behavior problem. Keep signed rental agreements in a secure place.
Your rental agreement should include a pet clause, which limits animals by type, number, size or breed – or prohibits them altogether. Even if your prospective tenant has no pets, their lease should include this clause. They may want to get a pet after they move in.
We recommend that all landlords require renters' insurance policies. Many renters think that their landlord's insurance protects their belongings. It doesn't. Moreover, if someone is injured in your tenant's apartment and the tenant has no insurance, you can easily be sued for damages. For a more detailed description, read "Should a Portland Maine Landlord Require Renters Insurance?"
Solid Insurance
Even the best managed Maine income properties can still create costly losses for their owners. Good landlord insurance can make the difference between a financial disaster and a manageable expense. At a minimum, your insurance should protect you against:
Damage to your property – with an insurance limit sufficient to replace or rebuild.
Liability Suits – including injury, damage to others' property, wrongful eviction, invasion of privacy and slander.
Loss of Rental Income – caused by damage to your property
Many landlords set up LLCs or other ownership entities for their real estate. Make sure that the legal owner of the building is an insured on the policy. Depending on your property's location and characteristics, you might also consider flood or earthquake insurance.
If you have questions about Portland Maine landlord insurance and Maine income property insurance, contact Noyes Hall & Allen Insurance at 207-799-5541. Noyes Hall & Allen is a partner organization of the Maine Apartment Association, which offers helpful information and member benefits for apartment owners. One of our insurance agents, Dave McKenna, is currently a Committee Member of the MAA. Noyes Hall & Allen is independent and committed to you.